Commencement 2023: Livestream
Date, Time, & Locations
MICA's 2023 Commencement Ceremony will take place on Monday, May 15 at Meyerhoff Symphony Hall.
The Graduate Commencement will begin at 10:00 a.m. (EDT)
The Undergraduate Commencement will begin at 3 p.m. (EDT)
All ceremonies will also be live-streamed right here.
Questions? Email us at: commencement@mica.edu
Graduate Commencement Day Timeline
9:00 a.m. EDT
Students arrive at Main Building for Class Photo
9:50 a.m. EDT
Procession Begins from Mount Royal Station Hill
10:00 a.m. EDT
Grad Commencement Begins - Procession enters Symphony Hall
12:30 p.m. EDT
Grad Commencement Ends / Recessional
12:00 p.m. EDT
Reception in Cohen Plaza
Undergraduate Commencement Day Timeline
2:00 p.m. EDT
Students arrive at BROWN CENTER for class photo
2:50 p.m. EDT
Procession begins from the Station Hill
3:00 p.m. EDT
UG Commencement Begins - Procession enters Symphony Hall
Undergraduate Commencement Ends / Recessional
5:30 p.m. EDT
Reception in Cohen Plaza
Artwalk
Join us for the 15th annual ArtWalk Gala on MICA's beautiful campus this year!
The ArtWalk Exhibition opening is a celebration of MICA's undergraduate class of 2023. Be sure to join us on Fridav, May 12 from 5:30p.m. - 8:30 p.m. EST. Reservations are encouraged, but not necessary and can be made here.
What is Artwalk?
2.000 pieces of unique one-of-a-kind artwork by nearlv 360 of the nation's most talented emerging artists. The largest display of visual art in Baltimore for art lovers and collectors.
An opportunity to meet and talk with our artists as well as the abilitv to be the first in line to purchase their artwork before prices soar.
A fun-filled evening to connect with vour familv, friends. and neighbors at the best party in town.
An opportunity to sample delicious cuisine from Baltimore's top food trucks including: Bore Greek Grill, Breaking the Borders Down. Kooper's Chowhound. and Wafflelicious.
Undergraduate Keynote Speakers & Honorary Degree Recipients.
Yumi Hogan
Former first lady of Maryland Yumi Hogan '08 (Painting BFA) is an artist working primarily in abstract landscapes in Sumi ink on Korean Hanji paper. Her award-winning work has been featured in solo shows, group exhibitions and in museums nationally and internationally. She is a longtime advocate for the arts, and in 2017 launched Yumi C.A.R.E.S. Foundation, a nonprofit organization seeking to bring art therapy to pediatric patients across the state. Her causes also include support of organizations devoted victims of domestic violence and human trafficking. Among her honors is the 2018 National Association of Secretaries of State Medallion Award, the 2017 Ellis Island Medal of Honor, and the 2016 International Leadership Foundation's Inspirational Leader Award. An adjunct faculty member at MICA, Hogan received her MFA from American University and BFA from MICA.
Derrick Adams
Derrick Adams, who was born in Baltimore, is an acclaimed and internationally exhibiting multidisciplinary artist living and working in Brooklyn, NY. His work celebrates and expands the dialogue around contemporary Black life and culture through scenes of normalcy and perseverance, and encompasses paintings, sculptures, collages, performances, videos, and public projects. Currently a tenured assistant professor in the School of Visual, Media, and Performing Arts at CUNY Brooklyn College, Adams began his teaching practice as part-time faculty at MICA. His work resides in the collections of major museums, including the Metropolitan Museum of Art and the Studio Museum in Harlem, and has been featured in many solo exhibitions and group exhibitions. Adams has also mounted notable public installations. He received his MFA from Columbia University and BFA from Pratt University.
Graduate Keynote Speakers & Honorary Degree Recipients.
Myrtis Bedolla
Myrtis Bedolla is owner and founding director of Galerie Myrtis, a gallery and art advisory specializing in twentieth and twenty-first-century American art. With a focus on work of African American artists, the gallery utilizes the visual arts to raise awareness for artists who deserve recognition for their contributions in artistically portraying our cultural, social, historical, and political landscapes; and to recognize art movements that paved the way for freedom of artistic expression. Bedolla possesses over 30 years of experience as a curator, gallerist, and art consultant, and is an Association of Art Museum Curators & AAMC Foundation Trustee, University of Maryland Arts Program Chair, and on the Board of the Municipal Art Society of Baltimore City. She holds a BS in Business Administration from the University of Maryland, University College, and received curatorial training at MICA
James D. Wright
James D. Wright (P.C.) is an attorney and trustee of the Phillip E. and Carole R. Ratcliffe Foundation, whose steady support has helped MICA meet its mission to empower students to forge creative, purposeful lives and careers. Major grants from the Ratcliffe Foundation in 2015 and 2017 established MICA's annual UP/Start Venture Competition and entrepreneurship education. In 2019, Wright oversaw the Foundation's $5 million gift to the College that funded the Ratcliffe Center for Creative Entrepreneurship, a nationally recognized model for creative entrepreneurship. In addition, he helps steer the Foundation's other transformative gifts to encourage entrepreneurship in non-traditional business fields. A retired partner at Venable LLP, Wright previously clerked for Judge Frank A. Kaufman, U.S. District Court. He received his JD from Harvard University and BA from the University of Delaware.
2023 MICA Medal of Honor Recipients
From time to time, MICA bestows its Medal of Honor on individuals who has brought great distinction to the College. At the Honorees Dinner on Sunday, May 14, MICA will honor:
Theresa Bedoya
Former Vice President for Admission and Financial Aid Theresa Bedoya retired from MICA in 2020 after four decades of leadership. She was appointed Dean of Admission and Financial Aid in 1986 and subsequent to her appointment was promoted to the position of Vice-President for Admission and Financial Aid 1992. From 1979 to 1986, she was Director of Admission. Previous to that appointment, she was coordinator of academic advising from 1976 to 1979. During her tenure at MICA, Bedoya was also a revered leader at the Association of Independent Colleges of Art and Design (AICAD), Baltimore Collegetown Network (BCN), National Association of College Admission Counseling (NACAC), and National Portfolio Day Association (NPDA), among other organizations. Bedoya received her B.S. in Art from Towson University.
Paula Phillips '96 (Studio Art MFA)
Paula Phillips, who is retiring from MICA in 2023, is an artist, art educator, and mentor whose leadership helped build the MFA in Community Arts (MFACA) into a nationally renowned program with justice at its heart. A longtime MFACA faculty member, Phillips is the former director of the Community Arts Partnerships Program. As an artist, she utilizes the disciplines of fibers, photography, ceramics, and sculptural form in metaphorical, narrative-based mixed media paintings and fiber pieces that explore community issues and themes through varied collaborative, educationally-based practices. In addition to her MFA in Studio Art at MICA, Phillips earned a bachelor's degree in fine and applied arts at Texas Wesleyan University and a bachelor's degree in business administration from Huston-Tillotson University.
Commencement 2023 Instagram Filters
Get Your Beret On!
Put on your (virtual) beret and pose in front of the Main building with our new class of 2023 Instagram filter. Don't forget to customize it by changing your beret color and adding #MICAmade2023 gifs. If you share your picture or video on Instagram, please be sure to tag @marylandinstitutecollegeofart so we can view it!
MICA Commencement 2023 GIFs
Commencement Program
MICA Traditions and Regalia
The Chain of Office and Medallion
The Chain of Office and Medallion is worn by MICA's president during Commencement. The Medallion, designed by Karen Klinedinst '85, includes symbols that represent MICA's endurance since its founding in 1826. It is paired with the Chain, designed by Betty Cooke '46, where each link features the name of the College's official and acting presidents, symbolically connecting MICA's founder to its current leader.
Academic Regalia
Modern academic regalia evolved from apparel worn by monks and students in the Middle Ages. The gown is symbolic of democracy in scholarship, and the hood is lined with the official colors of the institution conferring the degree and bound with velvet of the color appropriate for the highest degree achieved. MICA's colors are brown and gold for the MFA, white and gold for the MA, and blue and gold for the MA in Art Education.
Our Velvet Beret
A graduation cap is a sign of the freedom of scholarship which endows the wearer with responsibility and dignity. Rather than mortarboards, a black velvet beret has been traditionally worn as the cap by graduating students at MICA since the 1960s.
Honor Cords
Academic Honor Cords are worn by students who are awarded Cum Laude (green), Magna Cum Laude (red), and Summa Cume Laude (gold). The Art Education Honor Cord (light blue) is worn by undergraduate students accepted into the five-year BFA/MAT program. Leadership Honor Cords (bright blue) are worn by students recognized for outstanding leadership and contributions to the MICA community. Military Service Honor Cords (dark blue and gold) are worn by current members and veterans of the United States military.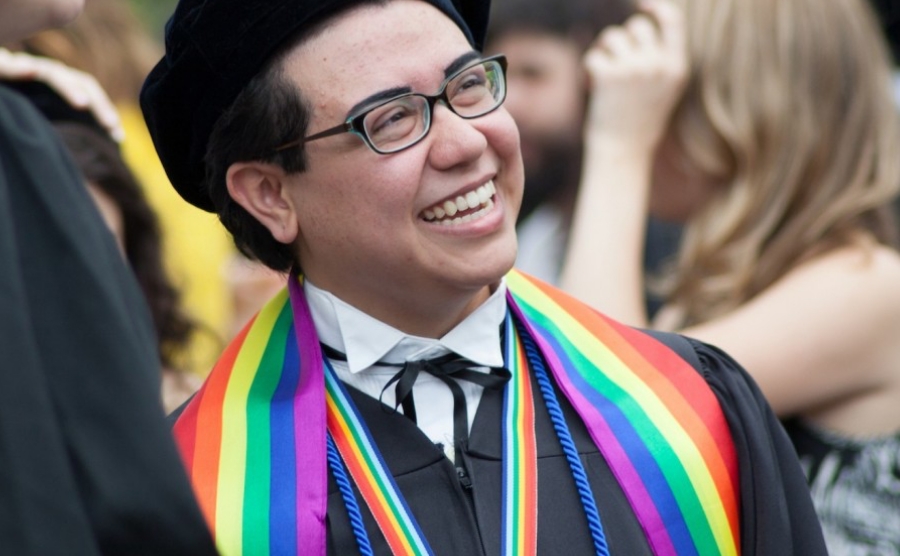 Leadership in Diversity Stoles and Cords
Leadership in Diversity Stoles and Cords are worn by students recognized for leadership, academic achievement, and involvement in advancing the Center for Identity and Inclusion's mission and vision. The stoles are red which represents power, energy, creation, passion, and love. The Adinkra Ghanaian symbol shows two conjoined crocodiles, which symbolizes democracy and cooperation and means Unity in Diversity. Other stoles include Asian Silk Stoles (silk bamboo print), Faith-based Stoles (Jewish stoles are blue and white, Christian stoles are teal), Heritage Stoles (red, green, and yellow), Hispanic Stoles (white, red, and blue), Kente Stoles from Africa (green, gold, and maroon), and LGBTQIA Stoles (rainbow colors with an inverted pink triangle).
International Honor Cords
The color white is associated with illumination and understanding; the cord signifies the value of the global viewpoints and life experiences international students bring to MICA.
Undergraduate Instructional Videos
Get a guided video walkthroughs of what to expect on the day of the big event for undergraduates. Both offstage and on!
What to expect the day of commencement
What to expect on stage
Graduate Instructional Videos
Get a guided video walkthroughs of what to expect on the day of the big event for MA, MFA, and MPS graduates. Both offstage and on!
What to expect the day of commencement
What to expect on stage
Accessiblity and Accomodations
If you require an accommodation for visitors or guests to MICA's commencement ceremonies, please submit a request via the form linked below. Students who need commencement related accommodations should contact the Office of Accessibility & Disability Services at ads@mica.edu.