Reading material produced by the MICA community
Posted 04.01.13 by MICA communications
An overview of some books and articles published or designed by members of the MICA community, beginning in 2010.
Books
GRAPHIC DESIGN
Graphic Design Thinking: Beyond Brainstorming by MICA's M.F.A in Graphic Design Director Ellen Lupton
Published by MICA and Princeton Architectural Press
Partnered with her students, Ellen Lupton published her fifth book dedicated to exploring the thought process in relation to graphic design. Graphic Design Thinking outlines different techniques in thinking and solving design problems by highlighting three sections: problems, ideas and form. The book uses case studies to show exactly how to carry out the design process. For more information please click here.
Participate: Designing with User-Generated Content by Helen Armstrong '09 and Zvezdana Stojmirovic '05
Now available from Princeton Architectural Press
Written and designed by students and faculty in MICA's MFA in Graphic Design program, this book presents tools and techniques for generating ideas, ranging from quick, seat-of-the-pants approaches to more formal research methods. At the book's core are techniques for releasing creative energy and stimulating fresh thinking to arrive at compelling and viable solutions.
Fingerprint No. 2
Available from HOW
A variety of work produced in MICA's M.F.A. in Graphic Design students will be featured in the forthcoming book FINGERPRINT, available for pre-order on Amazon.
Kern and Burn: Conversations With Design Entrepreneurs by Tim Hoover and Jessica Karle Heltzel
Available at kernandburnbook.com.
This book by Tim Hoover '12 and Jessica Karle Heltzel '12 features candid conversations with 30 leading designers who have founded startups, channeled personal passions into self-made careers and taken risks to do what they love.
HISTORY
Making History / Making Art / MICA written by Douglas L. Frost
Now available from MICA.
MICA's nearly two-century history is one of resilience, reinvention, and leadership, and one that is told through 336 pages of flowing narrative and more than 450 images. The layers of history, from 1826 through the present and looking into the future, are written by Vice President for Development Emeritus Douglas L. Frost, who undertook this uncharted venture upon his 2006 retirement after 40 years of service to the College. For more information, click here.
Saidie May: Pioneer of Early 20th Century Collection written and published by Susan Adler Davis '79
Available from the author at susalinasail@gmail.com or by phone at 410-580-0670, limited edition of 2,000 books, and MICA Store
Saidie May chronicles the life and travels of Baltimore born Saidie Adler May and her sister, Blanche Adler, both generous benefactors of the Baltimore Museum of Art and other museums in the United States. An American expatriate, Saidie May lived in Paris during the late 1920s through the beginning of World War II and helped artist Marc Chagall escape the Nazi occupation. Acquiring and sending art to US museums during her travels, she was the first to bring Pablo Picasso to America. Ms. May created one of the first children's museums in the United States and built an art study center for the public located in the Baltimore Museum of Art where the public could view art and make their own creations based on what they learned. Art historian and teacher Susan Helen Adler is the great-niece of Saidie May. Learn more at www.saidiemay.com.
Love and Capital: Karl and Jenny Marx and the Birth of a Revolution, by Mary Gabriel '84
Available from Amazon
Mary Gabriel brings to life the tragic saga of the Marx family in this Pulitzer Prize-winning book that details Karl Marx's politically obsessed professional life and tumultuous personal life, with his wife Jenny von Westphalen at the helm. While their marriage shared passionate and joyous moments, it was also filled with tragedies of financial despair, infant mortality, and many infidelities-one that produced an illegitimate son. But Gabriel does more than just outline his career and family life. She has shown her readers that without the women in Karl Marx's life, the revolutionary thinker history knows may not have existed.
GRAPHIC NOVEL

The Accidental Genius of Weasel High by Rick Detorie '74
Now available from Random House
• This illustrated novel for young adults was authored by cartoonist and 1974 alumnus Rick Detorie, creator of the nationally-syndicated comic strip, One Big Happy, set in Baltimore. The book follows Larkin Pace, a 14-year-old student who finds himself in typical teenage situations: his parents don't seem to understand him, his sister--whom he calls "The Beast"--is a drama queen, and his girlfriend turns out to not really be his girlfriend at all. Although the book is aimed at teenagers, adults--especially parents--will find Detorie's book to be laugh-out-loud funny. Detorie has written 14 adults humor books, and his freelance cartoons have appeared in the Saturday Evening Post, TV Guide, Working Woman and National Lampoon, among others.
The Last Dinosaur by De Robinson '18 (Animation BFA)

Now available from IAMDEROB
This comic book was created by author, illustrator and animator De Robinson. Robinson's favorite comic books include Captain Underpants and Calvin and Hobbes. Robinson intends to continue writing stories, as he has "a lot more stories to tell." This story hits the ground running when a young protagonist Dave is ten minutes late for work! In order to find out what happens next, purchase the 40-page, full color copy from self-published author De Robinson.
Batman Beyond: Batgirl Beyond, illustrated by Annie Wu '10 (Illustration BFA)
Now available from the Decker Library and Amazon
Annie Wu illustrates Batman Beyond: Batgirl Beyond, where new hero Batgirl catches the attention of Commissioner Gordon. Who is this new vigilante and what role will she play in the future of Neo-Gotham? Find out about Batgirl and admire Wu's colorful illustrations in the DC Comics book.
ILLUSTRATION
Sew Fun: 20 Projects for the Whole Family by Deborah Fisher '92 (fiber)
Available at Interweave Store
Unlike many sewing-for-children books, Sew Fun: 20 Projects for the Whole Family is a thoughtful approach to crafting with and for children. Readers will discover a variety of ways to get children involved in fun sewing projects, whatever their age or ability. Several projects are strictly for adults to make and children to enjoy. Others incorporate a child's drawings printed on fabric and used as a template or design. Sewist Deborah Fisher has developed a range of projects that will appeal to adults and children alike. Fun costumes, beautiful dolls, story-time blankets, and communal projects are just some of the patterns included here. Sewists will enjoy combining bright colors and contemporary fabrics while spending time with their families. They'll get tips for working with children and learn how to involve them in ways that are enjoyable and stress-free.

Playing with Sketches by MICA's MFA in Illustration Practice Director Whitney Sherman

Available from Rockport Publishers and Amazon
Drawing is the backbone of art and design; with all of the tantalizing wonders of the digital world, the best designers, illustrators and artists know that it's good to step back occasionally and hit the refresh button on your hand and mind. Playing with Sketches, by MICA alumnae and Director of the MFA in Illustration Practice program, Whitney Sherman '71 (photography), is a hands-on, fun approach to exploring drawing principles. Beginning with an introduction to the philosophy of learning through the process of play, this book brings you through a series of basic warm-up exercises that can be combined with later projects. Then you'll move quickly on to more challenging and engaging exercises, including word games, dimensional shapes, and inventive sketchbooks and letterforms, eventually creating a "toolkit" of ideas and skills developed through the process of play. This book features creative, adaptable ideas, and numerous examples of designers and artists responses to each exercise, giving you a peek into their way of thinking and seeing.
Shape Shift written and illustrated by illustration faculty member Joyce Hesselberth
Available from MacMillan Publishers
Round, curvy, pointy, or straight-shapes are all around us. With vibrant illustrations that highlight shapes in all their forms, this informative book reinforces the identification of circles, squares, crescents, diamonds, triangles, rectangles, trapezoids, and ovals while encouraging kids to pair shapes together to make new forms.
CommuniTree by Andrea Skyberg '00 and the students and staff of Milwaukee Parkside School for the Arts
Available from Wooden Nickel Press and Amazon
CommuniTree was created in collaboration with 686 students (K4 - 8th grade) from Dover School and Tippecano School for the Arts & Humanities, during a time when these two separate schools were merging together to form Milwaukee Parkside School for the Arts. In an effort to take an active role in building their new school, students worked with artist and author Andrea Skyberg to develop a children's picture book about community.
They Draw & Cook: 107 Recipes Illustrated by Artists from Around the World by Nate Padavick and Salli Swindell
Available on Weldon Owen Publishing
• In fall 2010, Rebecca Bradley's Illustrating the Edible class created intricate and beautiful designs to showcase some of their favorite recipes, and they were featured on the cult foodie blog, TheyDrawAndCook.com. These and other illustrations on the blog were noticed by Weldon Owen Publishing and turned into a cookbook with 108 full-color recipes. Students Kathleen Marcotte, Sarah Straub, Kristin Nohe, Julianna Brion and Kevin Valente, as well as Bradley, will have their work featured (with royalties coming in) in what Publisher's Weekly has called one of the 10 most-anticipated cookbooks for 2011. For more information, click here.

The Lightning Thief by Rick Riordan, coloring by Illustration Department Chair José Villarrubia '83
Available from Hyperion Books
• For those who love the stories of Percy Jackson and his fantastical imagination, author Rick Riordan is turning the first in his written series into an action-packed graphic novel. The Lightning Thief, which was made into a full-length feature film earlier this year, has been released with vibrant colored imagery. Joining the creative team with Riordan is MICA Illustration Department Chair José Villarrubia '83, who did the coloring alongside Robert Venditti and Attila Futaki, who did pencils and inks. Villarrubia, an Eisner Award-nominated colorist, has worked on projects that include Young X-Men, Crossing Midnight, and Halo Uprising.
How They Croaked: The Awful Ends of the Awfully Famous by Georgia Bragg, illustrated by Kevin O'Malley '83
Available from Bloomsbury Kids
Accomplished children's book author Kevin O'Malley lent his illustration skills for this engaging chronicle of gruesome deaths written by Georgia Bragg. The book opens with a line that reads: "If you don't have the guts for gore, do not read this book." A flip through the page-turner shows that O'Malley's clever drawings add just the right tones of humor to keep the descriptions from getting over-the-top. O'Malley's snarky, offbeat humor has also come through in the 13 books he's authored, as well as the 20 books by other authors he has illustrated, including the popular Miss Malarkey titles. He lives in Baltimore with his wife, Dara O'Malley, who also graduated in 1983.
Heaven: God's Promise to Me, by Anne Graham Lotz, illustrated by Laura J. Bryant
Available at Amazon
Former student Laura J. Bryant lent her skills for Lotz's heart-felt book that educates children about heaven and, what some readers called, an honest presentation about death. It includes engaging questions and scripture references in the back of the book will help parents reinforce the message that heaven is a place of love that we can all look forward to seeing one day. There's even a special keepsake invitation for children to RSVP to Jesus!
Year One by Ramsey Beyer
Available from Etsy.com
Ramsey Beyer '07 (experimental animation) has self- published a 130-page comic book, Year One, which illustrates her first year living in Philadelphia. Beyer explains Year One to be about being in a new place, exploring relationships, maintaining new and old friendships and "generally being a twenty-something year old trying to figure things out."
Little Fish by Ramsey Beyer
Available from Amazon in September 2013
Ramsey Beyer '07 (experimental animation) has published Little Fish, a memoir about her first year transitioning from a small town to MICA in Baltimore City. Toldthrough real-life journals, collages, lists, and drawings, this coming-of-age story illustrates the transformation of an 18-year-old girl from a small-town teenager into an independent city-dwelling college student.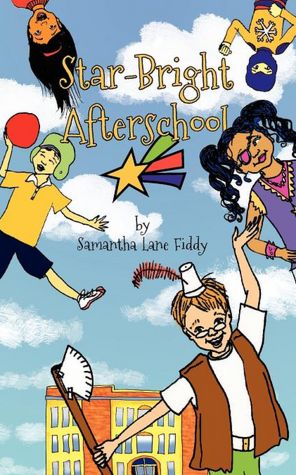 Star-Bright Afterschool by Samantha Lane Fiddy
Available from Amazon
Samantha Fiddy '03 (illustration) has published her first book, Star-Bright Afterschool, which illustrates the exciting adventures of the Star-Bright afterschool kids, including midnight dodgeball and disastrous Pancake-a-Thons.
Snickeyfritz by Andrea Skyberg
Available from Barnes and Noble
Andrea Skyberg's '00 (fiber) book Snickeyfritz is about three little girls who are stuck inside the house on a rainy day. After complaining that they're bored, their Papa sends them on a clever little treasure hunt. Along the way the girls learn to entertain themselves by using their imaginations as they search for the strange and mysterious items on the list.


Squircle by Andrea Skyberg
Available from Wooden Nickle Press
Squircle by MICA alumnae, Andrea Skyberg '00 ( fiber), is about a little girl named Evie who tries to catch a squirrel and ends up wandering through the forest on a magical adventure. Along the way, she unexpectedly meets a circle of woodland friends who inspire her to live in the moment, listen to her inner voice, and go with the flow of life. Using these tools to overcome negative emotions, such as anger, fear, and loneliness, Evie finds her joyful spirit. She realizes that she's never alone, and in fact, she's connected to everything around her, even the squirrel.
Happy Birthday, Bunny! written by Liz Garton Scanlon, illustrated by Stephanie Graegin
Available from Amazon
Stephanie Graegin '01 (general fine arts) has illustrated Happy Birth, Bunny!, a charming picture book that commemorates the most cherished of childhood events--a little one's birthday
Water in the Park written by Emily Jenkins, illustrated by Stephanie Graegin
Available from Random House
Illustrated by Stephanie Graegin '01 (general fine arts), Water in the Park is a story that tells the day-in-the-life of a city park and the playground within it.
Please, Louise written by Toni Morrison and Slade Morrison, and illustrated by MICA faculty Shadra Strickland
Available from Amazon
Please, Louise is an engaging picture book inspired by Pulitzer Prize-winning author Toni Morrison's experience working in a library as a young girl and celebrates the wonders of reading, the enchanting capacity of the imagination, and, of course, the splendor of libraries.
Edgar Allen Poe: Stories & Poems, illustrated by faculty member David Plunkert
Now available from the Decker Library and Amazon
David Plunkert's illustrations have appeared in various advertising campaigns, such as those for Fortune 500 companies, major newspapers, magazines and recording labels. For this classics reimagined series, Plunkert utilized his illustrative skills to bring new life to the selected Edgar Allen Poe works.
Meet the Bigfeet and Turtle Island, authored and illustrated by Kevin Sherry '04 (Illustration BFA)
Meet the Bigfeet: Now available from the Decker Library and Amazon
Turtle Island: Now available from the Decker Library and Amazon
Kevin Sherry authored and illustrated two lively books. The Yeti Files: Meet the Bigfeet is the first book in a fiction series for young readers. Sherry's new illustrated book features an array of weird, wacky goblins, Goatmen, skunk apes, Sasquatch and other animals. Turtle Island is a colorful fiction book featuring a shipwrecked group of animals who find refuge on the back of a giant turtle. Both works display Sherry's literary and illustrative talent.


FICTION
Sergeant Bill and His Horse Bob, written by Peter E. Dans M.D., emeritus associate professor of medicine at Johns Hopkins University, and illustrated by Mary Grace Corpus '15 (illustration)
Available from Amazon and other retailers
When Sergeant Bill gets a visit from President Franklin Delano Roosevelt, the everyday chaos of Baltimore traffic grows greater as the President's dog, Fala, spies a cat and leaps out of his car. Bill and Bob must team up to rescue Fala from the busy Baltimore waterfront before the little dog sets sail as an unexpected passenger on the South-America-bound ship, the Santa Rosa.
Thirteen Girls by Mikita Brottman
Available from Amazon
Mikita Brottman is a professor in the Department of Humanistic Studies at MICA. Aside from teaching Graduate Colloquium, Horror Movies, Psychopathology, Zoo Ontologies and The Uncanny courses, Brottman is a writer and has recently published her new book Thirteen Girls-a series of heartbreakin g stories about 13 individual murder cases, all told from different perspectives. Although her characters are fictionalized, each story is based on real life events.
Spectacle by Susan Steinberg
Available from Amazon
Susan Steinberg '90 (painting) has released Spectacle, a book of heart-wrenching short stories of women that address topics such as death and grief. The book bears witness to alarming and strange incidents: carnival rides and plane crashes, affairs spied through keyholes. Steinberg's characters stand at the edge of disaster and risk it all to speak their sharpest secrets.
Shrieks and Shivers, with work by staff member Cory Cone '07 (painting)
Available January 2015 on Post Mortem Press
Alumnus Cory Cone's '07 (painting) short story The Nest is featured in horror zine Shrieks and Shivers.
Nana in the City by Lauren Castillo '03 (Illustration BFA)

Available from Amazon
Lauren Castillo '03 (Illustration BFA) recently won a Caldecott Honor Medal for her authored and illustrated book, Nana in the City. The story surrounds a young boy and his nana, and is paired with watercolor illustrations that capture the vitality, energy, and beauty of the city.
NON FICTION
Night Moves by Stephanie Barber
Available from Amazon
Faculty member Stephanie Barber's Night Moves is a collection of all YouTube comments below the Bob Seger song "Night Moves." With its front cover illustrated by undergraduate student Ellen Phillips '15 (painting), Night Moves was a Top 10 Best Seller book on Small Poetry Distribution's site for three months through its exploration of the nature of online conversation.
We are Many by Katie Khatib
Available from AK Press
MICA adjuct Humanistic Studies professor, Katie Khatib served as an editor to We are Many, a reflection on the Occupy movement. The authors and activists in this collection point toward a movement-based framework for future organizing.We are Many examines key questions such as what worked? what didn't? why? how? is it reproducible?


The DVD Novel: How the Way We Watch Television Changed the Television We Watch by Greg Metcalf

Available from Amazon.com
Art History professor Greg Metcalf has written The DVD Novel: How the Way We Watch Television Changed the Television We Watch, an examination of how American television evolved from freestanding episodes to the season-and-series-long stories that dominiate our televisions today. The book looks at the influence of DVD sets, comics and film from the 1960's to present in shaping series like Mad Men, Game of Thrones, The Wire and Arrested Development.
Gone to Amerikay illustrations by Colleen Doran and Jose Villarrubia
Available from Amazon.com Faculty member Jose Villarrubia assisted in illustrating Gone to Amerikay, a story about Ciara O'Dwyer: a young woman raising a daughter alone in the Five Points slums of 1870; Johnny McCormack is a struggling actor drawn to the nascent folk music movement in Greenwich Village 1960; and Lewis Healy is a successful Irishman who's come to present-day Manhattan on his wife's anniversary-present promise to reveal the connection between him and them. The mystery originates with Ciara's runaway husband, who disappeared after promising to join her in America, and carries into midcentury when Johnny, devastated by an unexpected romance and a lost shot at musical fame, gets a supernatural visitor.
Do Guns Make Us Free?: Democracy and the Armed Society by Firmin DeBrabander

Available from Amazon.com and Yale University Press
MICA associate professor of philosophy, Firmin DeBrabander has written Do Guns Make Us Free?: Democracy and the Armed Society. In this book, DeBrabander examines claims offered in favor of unchecked gun ownership in this insightful analysis. Do guns indeed make us free?
INTERIOR DESIGN
Interior Visions by Mona Hajj '86
Available from Monacelli Press
• Named one of Architectural Digest's top 100 designers and architects in 2010, Mona Hajj has designed interiors of the Embassy of Luxembourg in Washington, DC and a Maryland home by architect John Russell Pope. Her first book, Interior Visions, was called "an elegent presentation of her projects, inspirations and personal design credos" by The Washington Post.
Practical Green Remodeling: Down-to-Earth Solutions for Everyday Homes by Barry Katz '73 (graphic design & illustration)
Available from Taunton Press
• Going green at home can seem like an all-or-nothing proposition. Green building expert Barry Katz makes a compelling argument for remodeling, as he guides readers through what can be a perplexing and daunting process. Katz explains how different choices impact a home's overall green quotient, as well as its bottom line. Available to purchase from Amazon.
PHOTOGRAPHY
The Changing Face of Portrait Photography: From Daguerrotype to Digital by faculty member Shannon Thomas Perich
Published by Smithsonian Books
• In this book, Shannon Thomas Perich, a Smithsonian curator whose previous title, The Kennedys, was a Vanity Fair cover feature, has selected ten photographers and 150 color and black and white photographs to present compelling accounts of portrait photography's more than 150 year history. Drawing on the extensive holdings of the Photographic History Collection of the Smithsonian's National Museum of American History, Perich discusses the changing conventions, theories and technologies that have guided the art form from its beginnings until the present day.
Conversations With Dan McNulty in Jersey City by Andrew Balize Bovasso '09 (photography)
Available from blurb
• Conversations refers to the act of rediscovering the spaces in McNulty's images and re-shooting them. This project explores the notion that time cannot be reversed, but it can certainly be scrutinized. For more information about the book, click here. for an interview with Bovasso, visit nj.com.
Glass House of Dreams by Margaret Haviland Stansbury, with photographs by David Simpson '70, and designed by Paula Adelsberger Simon '76
Available at glasshouseofdreams.com
• Glass House of Dreams celebrates Baltimore's landmark Victorian glass palace--one of the surviving architectural treasures in historic Druid Hill Park. Illustrating the history of this 1888 botanical conservatory, the second-oldest glass house in America, is the stunning photography of 1970 MICA alumnus David Simpson. His "cutting-edge photographs ot only capture the elegance of this architectural gem, but also present us with intimate images that portray the beauty of its individual plants," said the book's author, Margaret Haviland Stansbury. Highlighting the photography is the clean, though-out design of Glass House, created by 1976 alumna Paula Adelsberger Simon of Highmeadow Design, who has taught in MICA's professional and continuing studies program. This book celebrates the past, present, and future of The Howard Peters Rawlings Conservatory and Botanic Gardens.
Haunted Houses by Corinne May Botz '99 (photography)
Available from The Monacelli Press
• Corinne May Botz's fascination with the invisible has profoundly influenced her approach to photography in style and subject matter. For more than 10 years, she searched for ghost stories in buildings across the United States. She ventured into these haunted places with both camera and tape recorder in hand; her photographs, accompanied by first-person narratives, reveal a rare glimpse into American interiors, both physical and psychological. For a Nov. 3 profile of her in the New York Times, click here.
Living the Life by Doug Barber '71 (photography)
Available from Lowside Syndicate
• Living the Life is a collection of motorcycle photographs with poems by Eddie Pliska to match them.
Music of the Mind: Cliché Verre Photographs and Digital Imagery of Jaromir Stephany
by Tom Beck'75 (MFA in Photography)
Available from D.A.P New York
Tom Beck, M.F.A. 1975, has authored Music of the Mind: Cliché Verre Photographs and Digital Imagery of Jaromir Stephany, a new book that for the first time presents the work of Jaromir ("Jerry") Stephany (1930-2010) who chaired the MICA Photography Department from 1968 to 1973 before going to UMBC. The book discusses the life and work of Stephany, an artist who had shows in New York and elsewhere, but was not well known outside a relatively small circle of admirers.

Remembering Rochefort-en-terre by Whitney Sherman '71 (photography), Director, MFA in Illustration
Available from Lulu
For many years, MICA's Rochefort-en-terre artists residency was situated at the chateau owned by the Klotts Family. Being a Rochefort-en-terre resident artist is a unique experience with many fellows have noted that "something happens there." The experience of being in Rochefort-en-terre was captured in photographic images of the chateau and surrounding environs by alumna and Rochefort-en-terre resident artist Whitney Sherman '71 [photography].
Thirteen Hundred West Mount Royal Avenue, by Robert Salazar '83
Available from Blurb
The architectural photographic book was published last year and dedicated to Fred Lazarus IV, the College's president of more than 30 years. Alumnus and faculty member Robert Salazar wished to honor Lazarus's leadership and resilience that has allowed the College to maintain its traditions, epitomized by the Main Building, while moving into the future and at the forefront of American colleges of art.
FASHION
Draping Basics by Sally Di Marco '72
Available from Fairchild Publications
• Sally Di Marco retired from Baltimore County Communicty College where she coordinated the Fashion Design Program for over thirty years. Recently, she was appointed coordinator of the newly established Fashion Design Program at Stevenson University. In 2010, she authored Draping Basics, a fashion design text published by Fairchild Publications, a divison of Conde Nast. The text has been adopted by over 24 colleges and universities across the country.
ARTIST COMMENTARY
Hughie Lee-Smith by Graduate Dean Emeritus and Director for MICA's Center for Race & Culture Leslie King-Hammond
Available from Pomegranate
• The eighth volume in The David C. Driskell Series of African American Art, the book draws on a rich archive of Hughie Lee-Smith's writings and personal papers, and filled with large full-color illustrations, it tells his engrossing story. For more information, click here (or to buy, click here).
DESIGN
Exploring Materials: Creative Design for Everyday Objects by MICA's M.F.A. in Graphic Design program Director Ellen Lupton and environmental design faculty member Inna Alesina
Available from Princeton Architectural Press
• Exploring Materials focuses on how product designers can use physical forms and materials in a direct, active, hands-on way. In place of the abstraction of pure volumes or the whimsy of "virtual" objects, this book encourages designers to make and test real objects in a studio environment. Exploring Materials features dozens of MICA students' work in the environmental design program alongside work by prominent designers from around the world and is the fourth book created by MICA's Center for Design Thinking. For more information, click here.
PHILOSOPHY IN ART
The New Earthwork: Art, Action Agency, edited by Twylene Moyer and Glenn Harper
Available from Amazon
The work of Interdisciplinary Sculpture faculty member, Eve-Andrée Laramée is the subject of a chapter in the recently published book, The New Earthwork: Art, Action Agency. As a sculptor at the forefront of environmental and ecological/social innovation, Laramée makes works that engage the earth as a creative partner rather than resource and raw material. New Earthworks, currently at the leading edge of sculptural practice, advocates for ethical aesthetics leading to sustainable and vital artistic practice that not only solves problems but dares to ask questions and seek answers across disciplinary boundaries.

The Theory of Everything, Abridged by Ben Luzzatto, faculty in the interdisciplinary sculpture department
Available from Ugly Duckling Presse
• Artist and MICA faculty member Ben Luzzatto puts to work a combination of text, image and the documentation of his site-specific performance experiments in the service of his hypothesis that any reconciliation of quantum theory with general relativity will ultimately have more to do with the language we are using to describe the universe than with the discovery of any extra-dimensional physical reality. For a review of the book, click here.

It Can Be Solved by Walking by Jennifer Wallace
Available from Amazon
• In search of a place of self in an urban ecosystem, faculty member Jennifer Wallace put together this book-length poem and collection of photgraphs. She began the book in 2009 while working on the documentary film, Inter:View, a conversation about nature and the city. During the journey, she discovered that cities, not often thought of as ecosystems, are bursting with nature as well as human fears and desires. Her writing and photographs attempt to create glimpses of Baltimore that allow her readers to view the city withtout preconceptions or illusions as to what urban areas are supposed to be.
Art Desks by E. Brady Robinson
Available from E. Brady Robinson
• The hidden statement that lies within the everyday mundane office desk is analyzed through photos as alumna E. Brady Robinson peruses through the desk of well-known artists, collectors and gallery owners. Robinson describes her work as "the desk as portrait combined with the social experiment of navigating the art world." Art Desks evaluates the overlooked art of simple collections in daily life. The book features desks from photographer Michael E. Northrup, Cricket Taplin, and William Christenberry and others. An essay by art critic, curator and educator Andy Grundberg is also featured.
PSYCHOANALYSIS
Phantoms of the Clinic: From Thought-Transference to Projective Identification by faculty member Mikita Brottman (humanistic studies)
Available from Karnac Books
• As Freud predicted, there has always been great anxiety about the place of psychoanalysis in contemporary life, particularly in relation to its ambiguous and complicated relationship to the realm of science. There is also a long history of widespread resistance, in both academia and medicine, to anything associated with the world of the supernatural; very few people, in their professional lives, at least, are willing to admit a serious interest in occult phenomena. As a result, paranormal traces have all but vanished from the psychoanalytic process-though not without leaving a residue. This residue remains, Brottman argues, in the acceptably "clinical" guise of projective identification, a concept first formulated by Melanie Klein, and widely used in contemporary psychoanalysis to suggest a different variety of transference and transference-like phenomena between patient and analyst that seem to occur outside the normal range of the sensory process.
The Great Grisby: Two Thousand Years of Literary, Royal, Philosophical, and Artistic Dog Lovers and Their Exceptional Animals by MICA faculty member Mikita Brottman examines the relationship between man and his best friend. Brottman uses her bond with her beloved bulldog Grisby as well as her psychoanalytic background to develop a thoughtful critique of the inner workings of the connection and pose important questions about the origin of its nature. The book pulls historical, artistic and literary anecdotes to discuss the seemingly commonplace union.
Available from Amazon.
EXHIBITION CATALOGUE
Warren Seelig: Textile per se Exhibition Catalogue
Available from MICA
• The exhibition catalog offers highlights of and essays about Warren Seelig: Textile per se, a retrospective of work by Rockland, Maine-based fiber artist Warren Seelig, which took place at MICA December 2009-March 2010. The retrospective features selections from the fiber artist's three main bodies of work. These include handwoven and manipulated wall mounted works of the 1970s and early '80s and the skeletal/skin "spoke and wheel" sculptures from the '80s and '90s. MICA also revealed Seelig's most recent series of works that examine matter and light, Shadowfields. Art history faculty member T'ai Smith authored A Shadow of Textile Thought for the catalogue.
ART TEXTBOOK
Beyond Critique: Different Ways of Talking About Art by Susan Waters-Eller & Joseph J. Basile
Available at the MICA Store and Amazon
Featuring essays from Whitney Sherman, Ken Krafchek, Maren Hassinger, John Peacock, Nancy Roeder, Dennis Farber, Fletcher Mackey, Margee Morrison, Dan Dudrow, Jane Elkinton, Mina Cheon and Gabriel Kroiz. Beyond Critique represents the collected wisdom of the artists and scholars of the Maryland Institute College of Art, on the central role of critique in the education and studio practice of artists and designers. In this series of essays, faculty from the college talk about various techniques, theories and methodologies that underpin modern critique, and why critique remains so important in the contemporary art world. Personal, immediate and engaging, the essays in Beyond Critique will provide inspiration for artists and art educators of all stripes.
Contemporary Art and Classical Myth edited by Isabelle Loring Wallace and faculty member Jennie Hirsh
Available on Ashgate
The 14 essays in this book explore, and in large part establish, the intersection of contemporary art and classical myth. This often overlooked relationship is discussed through a variety of methodological frameworks and across an impressive range of artists, including Roy Lichtenstein, Luciano Fabro, and Francis Alys. Jennie Hirsh, assistant professor of modern and contemporary art, commissioned the essays and edited the book, along with her colleague, Isabelle Loring Wallace, associate professor of contemporary art and theory at the University of Georgia. Hirsh's own essay that appears in the book, Double Take, or Theorizing Reflection in Felix Gonzalez-Torres, addresses the confluence of the myths of Narcissus and Orpheus through the literal and metaphorical staging of reflexive encounter in the work of Gonzalez-Torres, the late Cuban-born, United States-based artist who succumbed to AIDS in 1996.
Art 101: Understanding Visual Artforms in Our World by art history faculty member Jenny Carson and Kim Anderson
Available from Kendall Hunt
An Introduction to Art Criticism by art history faculty member Kerr Houston
Available on Amazon
Kerr Houston's An Introduction to Art Criticism, will be released October 1. The text offers an overview of art criticism as it has been practiced since the 1700's. Filled with excerpts from the works of historical and contemporary critics, An Introduction to Art Criticism is designed to teach readers how to analyze the voice of critics and have a complete understanding of art criticism. The book is currently available for pre-order on Amazon.

The Heart of Art Eduction: Holistic Approached to Creativity, Integration and Transformation by Stacey McKenna Salazar
Available on Arteducators.org
With a chapters written by Stacey Salazaar '01 (Art Education),MICA board of trustees member Judith M. Burton and Dean of Art Education Karen Carroll, this anthology showcases an array of philosophies, methods, and lessons learned as teachers strive to meet the holistic needs of children and young adults. Focusing on meaning-making in the art room by viewing and critiquing art from other cultures, fostering harmonious relationships with nature, and examining transformative and integrated learning techniques, this volume provides insights for educators at all levels-from PreK-12 teachers, to university faculty, to researchers, community art center personnel, and museum educators.
Conversations in Art: The Dialextics of Teaching and Learning edited by Judith M. Burton and Mary Hafeli
Available on Arteducators.org
Edited by trustee Judith M. Burton and former Art Education faculty member Mary Hafeli, Conversations in Art is for those interested less in traditional forms of school-based inquiry-such as theory testing or investigating educational change-and more in obtaining a deeper understanding of what a group of selected art educators thought about what they did and why, and how this shaped their philosophy and teaching practice. The work also includes a chapter written by faculty member Sharon Johnson.
ART BOOK
The Skin of the Milk: A Roman Sketchbook by Susan Gottlieb
After taking over 30 trips to Rome, Susan Gottlieb '89 (MFA Art Education) has created an art book that is filled with the descriptions of Rome; paintings and sketches ; photos of people, and recipes for spaghetti and cooked zucchini flowers that she would store in her sketchbook during her trips. After returnng home, Gottlieb spent six months creating mixed media collages that would later become the printed book.Gottlieb plans for The Skin of the Milk: A Roman Sketchbook to be the start of a six series collection.
DESIGN
Urban Green: Architecture for the Future by Neil B. Chambers
Available from Amazon
In this book, Neil B. Chambers '00 (Post-Baccalaureate Certificate in Fine Arts) writes about his revolutionary vision for bringing the power of the conservation and design movements together. Chambers shows how ecologists and environmentalists around the world are joining forces with architects and city planners to make the natural world an integral part of cities. Chambers argues that by designing our homes and cities in harmony with the natural world, we can take the next step in the sustainable revolution. With nearly 20 years of experience in the green building and infrastructure fields, Chambers is recognized by his peers as an innovative force for the future of sustainability.
CO-LAB: Collaborative Design Survey
Written, Edited, and Designed by ras+e or Elizabeth Herrmann '11 and Ryan Shelley '11 (Graphic Design MFA)
Available on Amazon
The hows and whys of a post-agency shift in design toward small, interdisciplinary, collaboratives are dissected through hundreds of original illustrations, practitioner Q+A's, standalone essays, and buckets of red ink. Teamwork has never looked so punk, or research so entertaining.
Magazines
Beautiful/Decay
What started as a humble zine painstakingly photocopied by 16-year-old Amir H. Fallah '02 grew into a full-color, internationally distributed magazine. Now, Beautiful/Decay takes the form of a limited edition, hand-numbered art book series that features the work of emerging artists and subculture art. Besides producing Beautiful/Decay, Fallah is an accomplished artist who has launched Someting In The Universe, a design agency that connects artists who have been involved in Beautiful/Decay with high-profile clients.
Papers (articles and essays in collections)
EMOTIONS IN ART
Fear is Just Another Word for Someone Left to Please by foundation faculty member Denny Farber in Dealing with Fear
Available online from the Akademie Schloss Solitude
• A paper Denny Farber presented at a symposium on fear at the Akademie Schoss Solitude in Stuttgart has been published. He refers to the nature of fear as experienced in rock climbing, comparing that to fear experienced in creative practice within the privacy of one's studio, and observing the differences and similarities.
MODERN ART
A Collective and Its Individuals: The Bauhaus and Its Women by art history faculty member T'ai Smith in Modern Women: Women Artists at The Museum of Modern Art
Available from the Museum of Modern Art
• This examines MoMA's collection by highlighting the work of modern and contemporary women artists whose diversity of practices and contributions to the avant-garde movements of the 20th century have been enormous, if often underrecognized. Featuring 50 illustrated essays by many of the strongest voices in current research on art and gender, Modern Women: Women Artists at The Museum of Modern Art presents a variety of generational and cultural perspectives and examines both canonical figures and lesser-known artists.
SCIENCE
Hidden Beauty: Exploring the Aesthetics of Medical Science by Norman Barker '81 (photography) and Christine Iacobuzio-Donahue

Available on Barnes and Noble This collaborative project by a scientist and artist from the Johns Hopkins University School of Medicine asks the reader to consider the aesthetics of human disease, a dynamically powerful force of nature that acts without regard to race, religion, or culture. Here more than sixty medical science professionals present visually stunning patterns of different diseases affecting various areas of the human anatomy. Captured with a variety of imaging technology ranging from spectral karyotyping to scanning electron microscopy, we see beauty in the delicate lacework of fungal hyphae invading a blood vessel, the structure of the normal cerebellum, and the desperate drive of metastasizing cancer cells. However, appreciation of the imagery produced by disease, which smacks of modern art, is bittersweet; we simultaneously experience the beauty of the natural world and the pain of those living with these disease processes. Ultimately, this series of images will leave the viewer with an understanding and appreciation of visual beauty inherent within the field of modern medical science.
TECHNOLOGY
Digital Outcasts: Moving Technology Forward Without Leaving People Behind by Kel Smith' 91(b.f.a)
Available on digital-outcasts.com
Set to be released in June 2013, Digital Outcasts addresses key trends in technology and their relevance to forgotten populations.
Type on Screen by MICA's M.F.A in Graphic Design Director Ellen Lupton
Published by MICA and Princeton Architectural Press
Available from Amazon
Acclaimed graphic designer Ellen Lupton, author of the bestselling Thinking with Type, returns with a new look at the world of type and design. This time she turns her talents to an examination of the uses of type on off of the page. With Type on Screen, Ellen covers everything from videos, online, publications, personal websites, and mobile devices. This book is sure to become the definitive look at type in the digital age.
TYPOGRAPHY
Is Archer's Use on Target? by Lauren Adams '11 (M.F.A. in Graphic Design)
Available on AIGA.org
• An overview of the 2-year-old typeface, Archer, including uses by Newsweek, Martha Stewart and Wells Fargo.
PUBLICATION DESIGN
Q&A: Rodrigo Corral on Book Covers, Design Inspiration, and the Changing Media Landscape by Ryan Shelley '11 (M.F.A. in Graphic Design)
Published on March 26 in Metropolis Magazine
• Ryan Shelley interviews acclaimed New York graphic designer Rodrigo Corral about his memorable book covers, including the sprinkle-dipped hand of James Frey's A Million Little Pieces. The article started in faculty member Elizabeth Dickinson's fall writing course.
ARTIST COMMENTARY
From Work to Frame, In Between, and Beyond: Lygia Clark and Hélio Oiticica, 1959-1964 by art history faculty member Monica Amor
Published in Grey Room #38
JOURNALS
Sir John Davies's Agrarian Law for Ireland by faculty member D. Alan Orr in Journal of the History of Ideas (Volume 75 Number 1)
Available at University of Pennsylvania Press
Faculty member D. Alan Orr's article "Sir John Davies's Agrarian Law for Ireland" will be published in the forthcoming issue of Journal of the History of Ideas in January 2014. The publication includes histories of philosophy, of literature and the arts, of the natural and social sciences, or religion, and of political thought and encourages scholarship at the intersections of cultural and intellectual history.
Image caption: cover for the Journal of the History of Ideas 75:1
Hello, I'm Pregnant! by Alissa Faden'06 (M.F.A in Graphic Design)

Available at Abrams and Amazon
Alissa Faden has written and designed a gift product that is a journal for pregnant women. Hello, I'm Pregnant! takes an expectant mother through her nine months of pregnancy and into the first month with her newborn. With this journal, the mother is able to record the excitement, fear, and other emotions that accompany pregnancy.
FOOD
Food Lovers' Guide to Baltimore by Kathy Wielch Patterson '88 (illustration) and Neal Patterson.

Available at Amazon
Alumna Kathy Wielech Patterson and her husband Neal Patterson are the authors of the new book, Food Lovers' Guide to Baltimore. Engagingly written and chock full of essential info, Food Lovers' Guide to Baltimore is the ultimate resource for residents and visitors alike. Kathy and Neal provide the inside scoop on the best places to find,enjoy, and celebrate local culinary offerings, from classic crab cakes to moussaka, food trucks to farmers' markets.
The American Cookbook: A Fresh Take on Classic Recipes by Elena Rosemond-Hoerr '08 (Photography BFA)
Now available from the Decker Library and Amazon
Elena Rosemond-Hoerr, blogger for Biscuits & Such, recently wrote The American Cookbook: A Fresh Take on Classic Recipes. This cookbook is a collection of recipes from across the country, representing contemporary American cuisine. In her book, Rosemond-Hoerr cooked and photographed a mixture of traditional and modern Southern recipes.
This list is ongoing and is not comprehensive. For publications dating back further than 2010, click here. If you have an item that should be added, please send it to news@mica.edu.
Related honors
Started by faculty member R.L. Tillman, former faculty member Jason Urban, and Amze Emmons, Printeresting is a blog that highlights the ways print serves art and design and how the medium influences pop culture. Founded in 2008 by the trio, the blog is now authored by multiple contributors and is billed as "the thinking person's favorite online resource for interesting printmaking miscellany." The dynamic posts range from news to critical commentary.
Whether you're a curious novice or an expert in the field, Printeresting welcomes all and recently was welcomed with some big news.
In December, Printeresting was awarded a $30,000 grant from the Arts Writer Grant Program, presented by Creative Capital and The Andy Warhol Foundation in recognition of the team's past writing and in support of future research. The founders met the news with a mix of pride and humility. "To say that we're speechless would be an understatement," the creators wrote in a blog entry. "This grant has been awarded to many great art writers, and we are truly honored to be in such good company." To read the blog, click here.
MICA alumnus John Parot '98 (Mount Royal School of Art), who is competing on Bravo's latest reality TV show, Work of Art: The Next Great Artist, won the challenge in episode three, which asked the artists to design a book cover for a Penguin Classic book. Parot's brightly colored abstract painting for The Time Machine beat out all the others and has been published by Penguin, available here. For more information about Parot and the show, click here.
Graphic design faculty member Abbott Miller has received first prize by the American Association of Museums (AAM) in the Books category of the 2010 AAM Publications Design Competition for his book The Guggenheim: Frank Lloyd Wright and the Making of the Modern Museum, which was published to commemorate the museum's 50th anniversary last year. For more information, click here.