Post a Video Message
Congratulate your graduates, friends, or just give a shout out! Click on the "Record a Video" button and upload a video right from your phone or computer and share it LIVE right here. Your video will be posted within minutes of uploading so you can cheer on your graduates during the ceremony like you were there!
Sign our Virtual Yearbook
Take a photo using our special virtual photo booth! They'll be shared immediately during the virtual ceremony, and you can download and print them to keep forever. Share them on Instagram using #MICAmade2021.
MICA's 2021 Virtual Commencement
A celebration of community and excellence in an unprecedented moment in history
This year's Virtual Commencement Ceremony will take place on Saturday, May 22, 2021 at 9:00 a.m. (EDT) and will be streamed live right here!
What if I can not make the Commencement Ceremony on Saturday?
For those students who cannot attend the ceremony on Saturday, there will be a follow-up Conferral of Degrees event on Sunday, May 23 at 7 pm EST. This will be a much shorter and smaller event, but it will give as many people as possible the opportunity to have President Hoi confer their degrees.
Ceremony Schedule
9:00 a.m. EDT
Ceremony begins
9:15 a.m. EDT
Confering of honorary degrees
9:50 a.m. EDT
Confering of degrees
10:15 a.m. EDT
Ceremony Concludes
Commencement Program
Keynote Speakers & Honorary Degree Recipients.
Valerie Maynard
Born in Harlem, New York, Valerie Maynard is a preeminent African American visual artist with a long and vibrant career as sculptor, printmaker, and installation artist. Maynard's work centers themes of social injustice and black resistance movements across the African Diaspora.
Amy Sherald
Through her monumental portraits of African American subjects, Amy Sherald explores alternate narratives of blackness through the exclusion of color from the notion of race. The Baltimore-based artist is best known for her stylized, figurative paintings of vibrantly dressed individuals rendered in grayscale skin tones against flat, highly-saturated backgrounds that evoke a sense of timeless identity.
LIVE: MICA's Outdoor Commencement Watch Party
MICA is pleased to announce that we are hosting a limited seating in-person Class of 2021 Commencement viewing event at the Mount Royal Station Building Lot. While we wish everyone could join us in person this year, we are thrilled for the chance to be able to bring MICA graduating students together for this event. Due to capacity constraints, we can only accept registrations from students who are members of the Class of 2021 in our initial invitation.
Students will be grouped in pods of 10 upon arrival. If you want to be seated with friends who are fellow graduating students, you need to arrive together. Otherwise, students will be seated upon arrival. Once seated, you will need to remain in your pod area, but can unmask.
If you are unable to grab a spot at this limited attendance in-person viewing, don't forget, Commencement will be streamed live at 8:30 a.m., with remarks beginning at 9 a.m. on Saturday, May 22, 2021 at mica.edu/commencement.
Thesis Exhibitions
MICA Grad Show 2021: Challenging Assumptions
In a time in which our assumptions about what is real, true, and known have been cracked wide open, MICA GRAD SHOW 2021 will virtually showcase the culminating work of more than 150 MFA and MA graduate students from the College's internationally renowned programs. Making, learning, and working for change in a remote, disrupted, globalized context, these artists, designers, filmmakers, educators and curators seek to engage in courageous conversations and shape inquiry into art and design in a manner that not only contributes to the world, but transforms it.
Commencement: The 2021 Show
For Commencement, The Undergraduate Class of 2021 will be presenting their thesis work on MICA's virtual exhibition platform. Despite the challenges of a largely online and remote year, the class of 2021 persevered, reaching this important milestone. And in doing so, these talented young artists and designers exemplify one of MICA's core tenets—that our community takes pride in its resilience.
Commencement 2021 Instagram Filters
Get Your Beret On!
Put on your (virtual) beret and pose in front of the Main building with our new class of 2021 Instagram filter. Don't forget to customize it by changing your beret color and adding #MICAmade2021 gifs. If you share your picture or video on Instagram, please be sure to tag @marylandinstitutecollegeofart so we can view it!
Commencent 2021 GIFs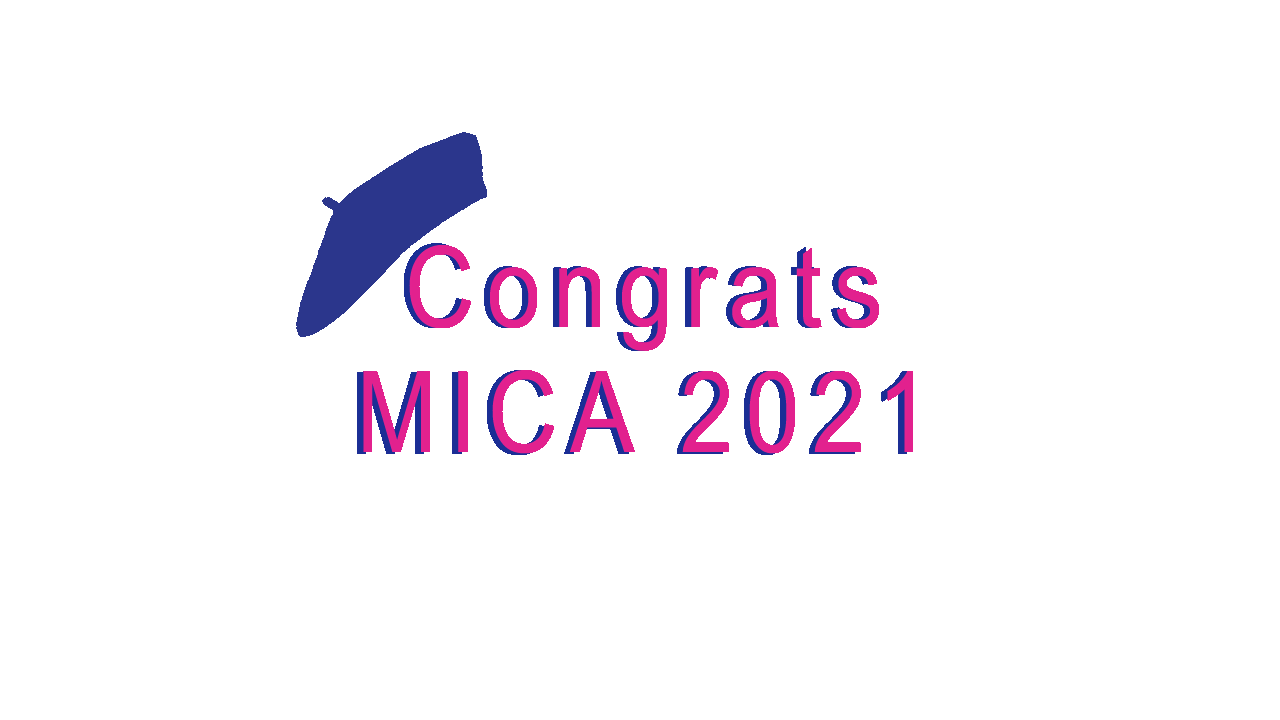 MICAMade Marketplace
Purchase work from the class of 2021 on MICAmade Marketplace, an online marketplace for Maryland Institute College of Art's vibrant and dynamic community of students, staff, faculty, and alumni.